With the LinkedIn algorithm constantly changing, it is paramount that you understand how to stay ahead of the game.
Why Are My LinkedIn Posts Not Getting Any Views?
It all leads back to the LinkedIn algorithm.
There are many possible reasons why your LinkedIn post isn't getting any views.
Many LinkedIn content creators have had to do numerous rounds of trial-and-error to figure out how to get the LinkedIn algorithm to work in their error.
They've identified the following as the top common issues:
Low First-Degree Connections Counts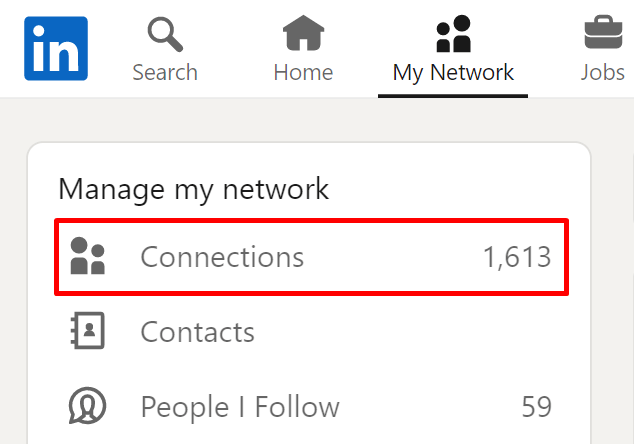 For those who are having a hard time getting their LinkedIn posts seen by the LinkedIn community, this is one of the top reasons.
If you have a small first-degree connections list, it's going to be more challenging to get others beyond your network to view your posts.
It gets even more complicated if none of them engages in your posts, which is why it's essential to choose your connections on LinkedIn carefully.
Tagging Unresponsive People or Companies
Tagging a prominent figure or established company in your LinkedIn post won't necessarily work in your favour.
LinkedIn, like any other social media platform, wants to maintain a certain quality of user experience. As such, it discourages its users from spamming others via tagging, among other things.
When you tag a person who doesn't engage in your post, your post views will be low because the algorithm won't promote it as much.
Hashtags: Underuse and Overuse
Hashtags are essential to organic LinkedIn post views.
However, you want to use them moderately (3-5 hashtags per post).
You don't want your audience to think that you're simply trying to sell something by promoting yourself too much (and too often) via hashtags.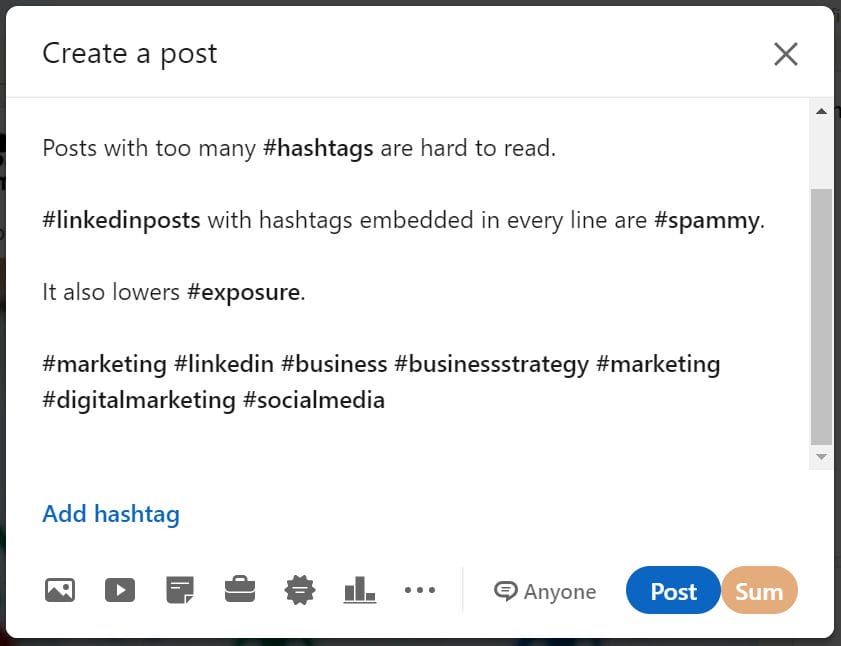 LinkedIn's algorithm is all about engagement levels – the more people engage with your posts, the higher chances that more people will discover your post.
In short, hashtags are one of the key ingredients in getting more views on your LinkedIn posts, as your posts will appear in news feeds of hashtag followers.
Many LinkedIn users blunder by sticking to only posts with images.
LinkedIn's algorithm favours certain content types over others, so it's vital to have different content on LinkedIn.
Continue reading to discover what type of content LinkedIn loves to promote.
 External Links in LinkedIn Posts
External links bring qualified customers down the conversion funnel, but it's not ideal to have them in the body of your LinkedIn post.
LinkedIn promotes native content as that means its users are staying within the platform longer.
What Should I Post to Get Noticed on LinkedIn?
Write Posts, not Pulse Articles
LinkedIn's algorithm rewards higher exposure to long-form, informational text-only posts.
While LinkedIn highly recommends this type of content, try not to go overboard with the 3000-character limit for LinkedIn posts.
Keep your content relevant and concise instead of overstuffing keywords to reach 3000 characters on your post.
Entertaining and Educational Posts
Rather than reading sales pitches, LinkedIn users want to be informed and entertained at the same time.
This works in your favour because you're engaging with people who are interested in reading your post (and learning about what you have to say).
As long as you make sure that your LinkedIn post is informative, interesting or entertaining (or all three), it will increase your chances of getting the LinkedIn algorithm to work for you.
The algorithm absolutely loves polls, so it will promote them a lot. However, use them sparingly as the number of polls on LinkedIn is hitting saturation point.
Many LinkedIn users are experiencing fatigue due to overexposure. Thus, even if your poll gets many eyeballs, it may not get a lot of engagement unless it's really relevant and fresh.
How to Boost a Post on LinkedIn
More and more people are discovering the value of content creation on LinkedIn and how LinkedIn content marketing can drive lead generation. This means you should grasp the opportunity to become a LinkedIn influencer before the platform becomes saturated with content like Facebook, Twitter and Instagram.
The road to becoming a thought leader on LinkedIn starts with creating valuable and shareable content.
But how does one go about getting their content noticed by their target audience?
Here are some exclusive tips and solutions that have been trending recently.
LinkedIn Hashtag Analytics is a free Google Chrome extension with a fast-growing user base. This analytics tool gives you data insights about hashtags on LinkedIn.
On top of fast follower count checks, you can also see which hashtags are trending by the maximum number of likes and comments that the top 20 posts receive from using them.
LinkedIn users tend to overuse the most popular hashtags on LinkedIn, so your chances of getting your content seen are meagre. That's why it's not sufficient to only rely on broad hashtags. With this handy tool, you'll be able to source niche, trending hashtags quickly as well.
Partnership Marketing Platform
Why is no one seeing my LinkedIn post?
Your LinkedIn post has insufficient early engagement.
The LinkedIn algorithm promotes your content to a broader audience when you've reached a certain threshold of engagement in the first two hours after posting. It is how it learns that your content is valuable to its users, but that's just the tip of the iceberg in 2022.
A small network on LinkedIn is often the root cause of poor early engagement.
Building a strong and powerful LinkedIn network takes time, so many business owners and professional partner up with each other to increase their business momentum.
With sufficient boosts to your LinkedIn posts, you'll gain a high organic reach that will drive your business and brand forward.
Having a Posting Schedule
What is the best day to post on LinkedIn?
Based on the latest heatmap by SproutSocial, the highest LinkedIn engagement periods in 2021 are between 9 a.m. and 2 p.m on Tuesdays, Wednesdays and Thursdays.
Do use these windows of opportunity when many are active and scrolling on their LinkedIn feeds to get engagement.
Engage with Your Commenters
This also falls under post engagement. Respond to all comments you receive on your LinkedIn post. Even if some of the comments are negative, keep your replies polite and show earnestness to learn about their perspectives.
What Should I Not Post on LinkedIn?
Offensive, misleading, false or spammy content

Content that publicises your job search

Pure sales pitches

Accepting connection requests
LinkedIn is a robust platform that helps you create content and engage with your ideal customers. This audience makes up most of the B2B community, so it's a goldmine for marketers looking to increase engagement and brand awareness.
With the right LinkedIn content marketing strategy, time and effort, it can be a very reliable way to drive traffic to your website.
However, to gain the attention of LinkedIn's algorithm, you must first understand how to leverage its power. Find out how the LinkedIn algorithm works now.
🚀 Skyrocket Your Business Growth