Every business owner deserves to be heard
We maximise your content and profile reach on LinkedIn so you can get the word out about your business.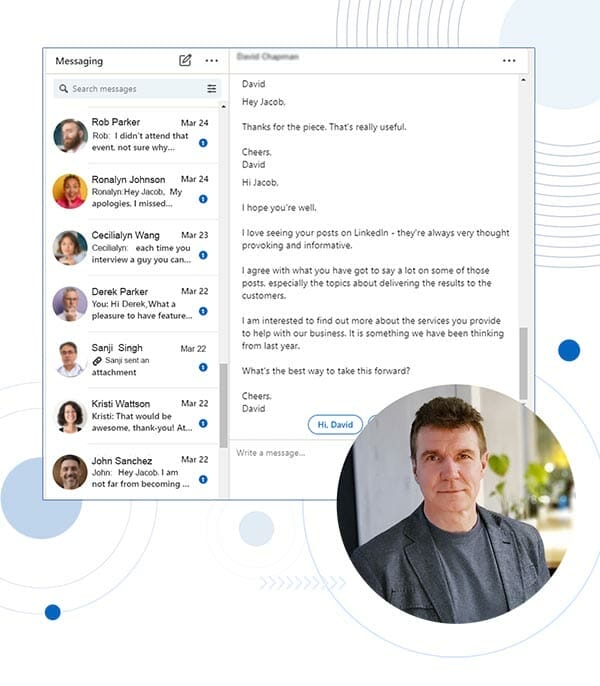 Amplify your content to drive more leads and sales
Join an exclusive community of business owners who are ready to promote your content on LinkedIn and make you stand out in your industry.
Win more business and promote your industry expertise around the globe, as your content gets amplified with real likes and comments to reach your second and even third-level connections.
Do you struggle to get noticed on LinkedIn?
LinkedIn is the most powerful platform on the planet for generating B2B sales and leads. 
As a business owner, you understand that you need fresh, regular content to stand out and get seen by your potential clients on LinkedIn.
But if you've posted several articles and watched them sink, then you're not alone. 
LinkedIn amplifies content that gets engagement (likes and comments) and shares it beyond your network – where it can gain exponential growth.
Watch this 1-minute video to make the LinkedIn algorithm work for you.
Get your content amplified by real business owners
Join an exclusive community of ambitious LinkedIn business owners who are committed to growing each other's online brands.
We run several engagement sessions each week, where you can share a LinkedIn post and exchange likes and high-quality, positive comments with fellow business owners.
You can register for as many (or as few) sessions as you like – it's totally flexible.
It's as simple as 1, 2, 3
Write and share a LinkedIn post for your industry.
Business owners will be selected to like and comment on your post.
You are given a list of posts to like and comment on, in return.
Now your posts will enjoy a flurry of fresh and authentic comments.
LinkedIn's algorithm will start to amplify your posts and promote your profile beyond your first-level connections - so more people will discover your expertise.


Watch this

2-minute video

to

build your thought leadership

with your audiences on LinkedIn

.
Build your brand via strategic partnership marketing
We designed FILT Pod to give you a reliable and safe strategy for business growth.
Our algorithm generates fresh combinations of business owners for each session, which keeps your account safe.
Each new applicant is vetted to ensure that they're a legitimate business owner and they agree to our community rules.
Visit our features page to discover how FILT Pod is designed to help build your LinkedIn brand and protect your profile.​
Join an exclusive community of business leaders & influencers
You already know that LinkedIn is the biggest business network on the planet. 
And now you know that FILT Pod is the smartest way to stand out on LinkedIn.
But are you committed to building your business?
We carefully select members of our community to ensure they share our values and are committed to leading their industry.
If you'd like to be considered for FILT Pod, get invite now.